Pack of 9 Mixed Pastel blue pink Victorian Moroccan retro traditional tile transfers stickers bathroom kitchen stick on wall tile peel and stick 6×6 or 4×4
£6.99 – £7.99
Made and Manufactured in the UK
Description
SUPERB STYLE: pack of 9, each tile measuring -15cm x 15cm or 10cm x 10cm. These waterproof tiles stickers have a luxurious and unique design. They are printed in high resolution using new technologies that will give your bathroom or kitchen a real vintage feel without a huge investment. Please note that the tiles have black or brown marks for the aged effect. The 9 mixed wall tiles stickers have a thin, flat design for a lovely aged Victorian look.
LUXURIOUS DESIGN: Get that astonishing traditional vintage look in your bathroom or kitchen with these 15 x 15cm self-adhesive tile stickers! You can enjoy a luxurious home without having to spend thousands of pounds on expensive ceramic tiles.,
EASY TO APPLY: Our tile stickers for bathroom or kitchen have a strong adhesive, that is also removable and repositionable, meaning they are very easy to fit. You can easily stick on most types of tiles or any flat surface, walls, glass, and tables. Using simple scissors, you can trim each sticker to fit around outlets and in tiny corners. You don't need professional help or special and expensive tools.
MADE TO LAST: These tile stickers are made of vinyl, a durable and sturdy material that will pass the test of time. The tile decals are waterproof and oil proof, being great for high-humidity environments like your bathroom or kitchen.
ENDLESS POSSIBILITIES: Our set includes a mixed set of 9 decals prints that allow you to mix and match the stickers to create a unique pattern. Ideal for luxurious home décor, these Moroccan tile transfer stickers are great for tiny details or to transform your bathroom and kitchen all together.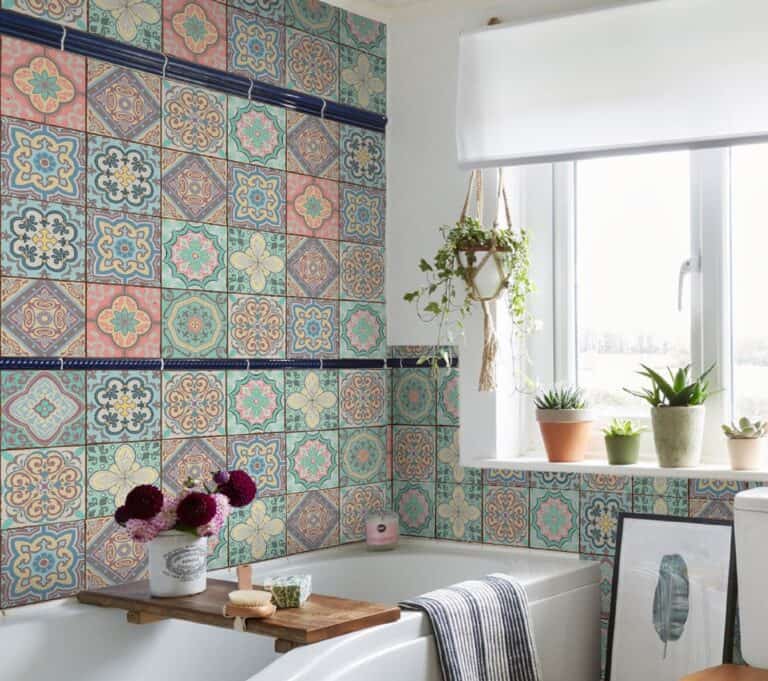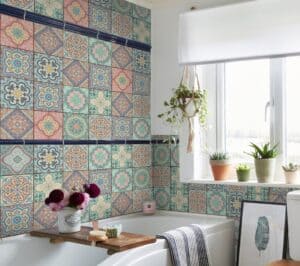 Some of the amazing features of this product:

Top-quality mosaic tile stickers by The Tile Sticker Company

Mixed set of 9 transfer stickers;

Waterproof and oilproof;

Can be used in shower areas

Easy to use and stick on almost any type of tiles;

Sticker size:

15 x 15 centimetres (6 inch) or 10cm x 10cm ( 4 inch); 

Moroccan design;

Made of heavy-duty vinyl;

Ideal for bathroom and kitchen;